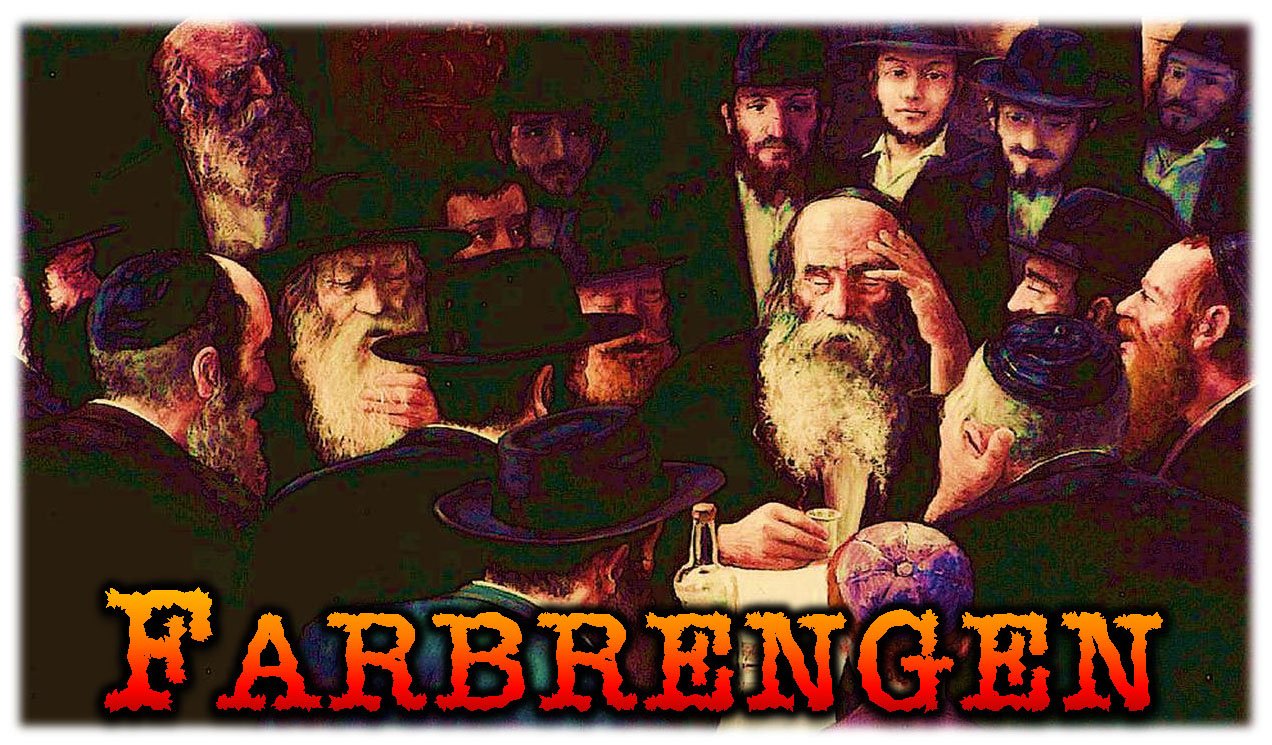 A Farbrengen is a Chassidic gathering in which the participants inspire each other to lead an exemplary Jewish life. In the spirit of true Ahavas Yisroel (love for one's fellow Jew), the participants encourage each other to study Torah diligently, to fulfil Mitzvos in the best possible manner, to improve one's character-traits, and to spread Judaism to others. These messages are all shared through a unique blend of Torah explanations, stories and Chassidic melodies; at times poignant and at times exuberant. No wonder that "What a Hasidic farbrengen can achieve, even the angel Michoel cannot achieve!"
Tamuz 5771 - July 2011
Rabbi Moshe Feller is a senior Shliach (Chabad-Lubavitch emissary); he has been reaching out to fellow Jews in his native Minnesota since the early 1960's. In particular, he is famous for always carrying a pair of Tefillin wherever he goes, adopting the American Express Card motto "Don't leave home without it!" He is constantly ready to help a fellow Jew don Tefillin. At a recent Farbrengen attended by students of the Rabbinical College, Rabbi Feller shared many gems. Several anecdotes are presented below.
---
A story with an "Australian connection":
It was 1968. The Rebbe's Tefillin campaign was central to my activities when I first arrived on Shlichus in the Twin Cities. Together with the other Shliach in the Twin Cities, Rabbi Asher Zelingold, I would frequent the Hillel building at the University of Minnesota campus to put on tefillin with the students.
The rabbi at Hillel, Lewis Milgrom, was quite friendly with me. One time, Rabbi Milgrom approached me and asked, "Moish, you know that I already put Tefillin on every day, so what do you have to offer me?"
I responded: "For you, I have Rabbeinu Tam, I have Ra'avad, and I have Shimusha Rabba. I have all four pairs of tefillin!"
Incredulous, Rabbi Milgrom asked, "Do you mean to say that there are people who lay four pairs of Tefillin?" I went on to explain that the Rebbe and certain select Chassidim would don four pairs of tefillin daily, so that their observance conformed with the opinions of Rashi, Rabbeinu Tam, the Raavad and the Shimusha Rabbah. From that point onwards, the phrase "four pairs of Tefillin" became our buzzword at every occasion that we met.
About six months later, I attended a Yechidus with the Rebbe, together with my wife. At the Yechidus, the Rebbe informed me that the B'nai Brith had chosen Rabbi Milgrom to open a Hillel House at a university campus in Melbourne, Australia. "You should tell him, and you may tell him in my name, that he should not think that what he could not accomplish (in terms of religious observance) at the University of Minnesota, he won't be able to achieve in Australia. There, the students are more open to religious experience."
The Rebbe added with a smile, "I do not mean that he has to initiate four pairs of Tefillin over there!"
When I recounted this Yechidus to Rabbi Milgrom, he was amazed; neither of us had told the Rebbe about our discussions and constant references to four pairs of Tefillin.
---
Living the slogan "Am Yisroel Chai":
I once participated in an Israel solidarity mission, organized by the local Jewish Federation of the Twin Cities. One of the places we visited was the Park Hotel in Netanya, which is the site of one of the most devastating suicide bombing attacks carried out by the enemies of Israel. On the first night of Pesach in 2002, as hundreds of guests were preparing to enjoy the Pesach Seder in the dining hall, a Hamas suicide terrorist arrived disguised as a woman and detonated himself. The terror attack left 29 civilians dead and 155 wounded. 
We arrived at the hotel, and we were taken to the exact spot in the hotel's dining room where the terrorist blew himself up. A memorial was displayed, with pictures of those who perished in the attack, a yahrtzeit candle and a charity box. The mood amongst the delegates was sombre as one rabbi chanted the "Kail Molei Rachamim." Another rabbi led the delegation in the singing of "Am Yisroel Chai."
Then it was my turn to speak. I turned to my fellow delegates, and I said, "Friends, in this place where our enemies tried to negate the fact that 'Am Yisroel Chai' (the nation of Israel lives), in this very place, we will demonstrate that 'Am Yisroel Chai' – not just by declaring it, but by acting upon it and putting on Tefillin." The group was extremely receptive, and I proceeded to lay Tefillin with all those who had not yet done so that day.
There were other Lubavitchers in the tour, and when they saw this turn of events, they immediately ran to the bus in order to bring their own pairs of Tefillin. However, the bus was locked, and the bus-driver was nowhere in sight. Only because I had my pair of Tefillin with me on hand was I able to take advantage of this most auspicious moment!
In the subsequent review of the Israel solidarity mission, the president of the Federation recounted, "My most inspiring moment of the entire tour was when Rabbi Feller put on Tefillin with me on the exact spot where the terrorists took 29 lives."
---
President Bush and the Yarmulka:
Senator Boschwitz once arranged that I attend a photo-op with President Bush. When President Bush entered the lobby and began greeting the attendees, I readied myself to present him with a special red-white-blue Yarmulka that I had prepared as a gift.
Just at that moment, a security guard approached me and asked me what I was holding. I explained that I had prepared a Yarmulka with the colours of the American Flag, and that I felt it was most appropriate to present it to the President of the United States, who was charged with leading "one nation, under G‑d".
The security officer told me, "Oh no, you cannot present the President with anything! If you like, we can present it on your behalf."
As this exchange was taking place, I noticed out of the corner of my eye that President Bush was watching us. He quickly came over, gave me a big bear hug and said, "Rabbi, is this for me?" I responded in the affirmative, and gave him the Yarmulka. He took it proudly and said, "You know Rabbi, we have a great G‑d."
---
A meaningful question:
Inspired by the Rebbe's avid encouragement of education for all Jewish women, my wife and myself, together with Rabbi Manis Friedman, founded Bais Chana, a place where women with little or no formal Jewish education can rediscover their heritage. It was only natural that I quickly developed ties with our sister-institution in Crown Heights, Machon Chana, whose mission statement was very similar to our own.
In its early years, Machon Chana would arrange that I spend the festival of Pesach in Crown Heights, so that I could conduct their Passover Seders. On the first night of Pesach, the Rebbe was accustomed to visiting several Sedorim in Crown Heights; the Seder of the Central Lubavitcher Yeshivah at 1414 President Street, the Seder at Friends of Refugees of Eastern Europe and the Seder at Machon Chana dormitory. The Rebbe would come in and observe that everyone and everything was ready for the Seder, and he also made a point of visiting the kitchen and thanking the cooks for their efforts.
In 5737 (1977), when visiting Machon Chana, the Rebbe asked one of his secretaries, Rabbi Groner, who would be asking the "four questions" at the Seder. The Rebbe was told that it would be my young son Mendel. The Rebbe turned to Mendel and asked him in Yiddish, "Du kenzt di fir kashes; du kenzt zei bal peh?" Mendel understood Yiddish quite well, but he became bashful at being addressed by the Rebbe. The Rebbe then repeated the question in English, "Do you know the four questions; do you know them by heart?" Young Mendel nodded his head. The Rebbe then pointed to me and asked, "Does he know the answers?" Everyone in the room laughed at the Rebbe's humorous comment. The Rebbe gave his blessing and left.
The next day, the Rebbe returned to his room after Mussaf. Suddenly, one of the Rebbe's secretaries, Rabbi Binyomin Klein, came over and started marching me to the Rebbe's room. We arrived at the entrance to the Rebbe's room, and he instructed me to wait.
Suddenly, the Rebbe appeared at the door and told me, "The question that I asked you last night was misunderstood by the assembled as humorous. However, I didn't mean it in jest."
The Rebbe went on to explain, "A child is not interested in ceremonies. So the question that a Jewish child has at the Seder is, 'We went through all of this last year! Why are we repeating it again this year?'"
The Rebbe continued, "Sometimes, the English language conveys the meaning of a word better than Hebrew or Yiddish. When a person makes an oral recitation, it is referred to in Hebrew as Bal Peh (verbal recitation), and in Yiddish as oiserveinik (outside). However, in English, it is referred to as 'by heart'. When a child asks the four questions by heart, he means them with his full heart."
The Rebbe added, "And when I asked if you know the answers, my intention was whether you could explain to your child that this year's Seder is in fact a totally new experience, and not merely a repeat of last year's experience."
The Rebbe concluded, "Since you are having your meals at Machon Chana, you will explain to the girls my question, and give them the answer."
---
Rabbi Feller shared many more experiences, particularly with regards to his inspiring others to don Tefillin. You can read about two such experiences here and here.
 © Rabbinical College of Australia & New Zealand website.
This article may be reproduced with prior permission. For more information, please contact us at [email protected].