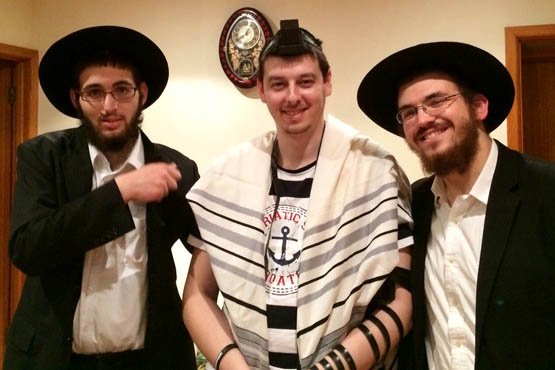 With Motty Rubin
While it seemed like a regular evening in the residential area of Bentleigh, a series of mini "Chanukah miracles" were about to take place. First, we chanced upon a Jew who asked us to bring the celebration to his home after his mother returned from work and would be able to join.
We then tried our luck with some of the other homes. We met an individual who asked if we were lost. After clarifying that he was not Jewish, he pointed out a Jewish home at the corner. Since we had not known that the inhabitants were Jewish, we hadn't originally planned to visit that particular home. It wasn't long before we were bringing the warmth of the holiday to the Israeli family who lived there, celebrating with doughnuts and a grand dreidel game. At the end of our visit, they directed us to their Jewish neighbours, an elderly Russian couple.
We were in for a surprise when Moshe, a young man, answered the door. He was clearly not the elderly Russian couple we had anticipated. We greeted him "Happy Chanukah!" Before we could continue, Moshe responded: "Not really interested, try your luck with others – don't waste your time here." However, after engaging Moshe by exchanging our Jewish names and courageously pulling off a dreidel game at the front door, the ice was broken. Soon enough, he was eating fresh doughnuts and reciting their blessings. As it was still before sunset, we offered to help Moshe lay Tefillin. Hearing this, Moshe's wife brought out the Tallis that he had worn at their recent wedding. It was apparent that Moshe's Neshama (soul) was coming out of hiding as well. The couple then explained how divine it was that we managed to meet them, as they had just returned that very day from house-watching for a friend. They had stopped by at their parents' home, who it turns out were not there and were coming later. After they thanked us, we gave them a Menorah to light, and another one for their parents'. Later, Moshe emailed us a photo of them lighting the Menorah.
Rushing back to our schedule, we ran over to the home of the first Jew we had met, getting there as sundown was nearing. We had just enough time to help him put Tefilin on. After kindling the seven Menorah lights and schmoozing with him and his mother, they mentioned a relative in the area who was in a difficult situation and living by himself, and who would really appreciate a visit.
The mother also mentioned another friend who had been staying with them while her new home was being built. She commented that due to the recent move into the new home, her friend didn't have access to her Menorah. We immediately asked her, "Can you drive us over there now?" Surprised at our reaction, she sped off with us to her friend's home. As it was already getting late, her friend was quite surprised to see her, especially with two young Chabad rabbis in tow. We immediately searched for a proper setting for the Menorah. Scanning the doorposts of the new home, we noted that none had a Mezuzah. "Perfect! We will first install a Mezuzah (which we had with us for just this purpose) on the right side of the door, and then kindle the Menorah on the left side!" After we lit the Menorah and were getting ready to leave the house, the new resident pointed out another Jewish house on the block. We left an additional "Chanukah Package" for her new neighbours.
Driving back, we asked if we could be dropped off at our new Russian friends, hoping to meet Moshe's parents and light the Menorah with them. When we arrived, we saw that they had already lit the Menorah. We were excited after a day full of Hashgacha Protis and seeing Hashem's hand throughout the day, so we asked Moshe if he would drive us to bring the holiday spirit to another dear Jew who was lonely. He agreed, and we sped off to the address we had been given earlier. After a bit of a search, we found the humble abode of this lonely Jew – who was not lonely for much longer! We joined with him in song and joy, and helped him light the Menorah, as well as his own soul, both spiritually and physically.