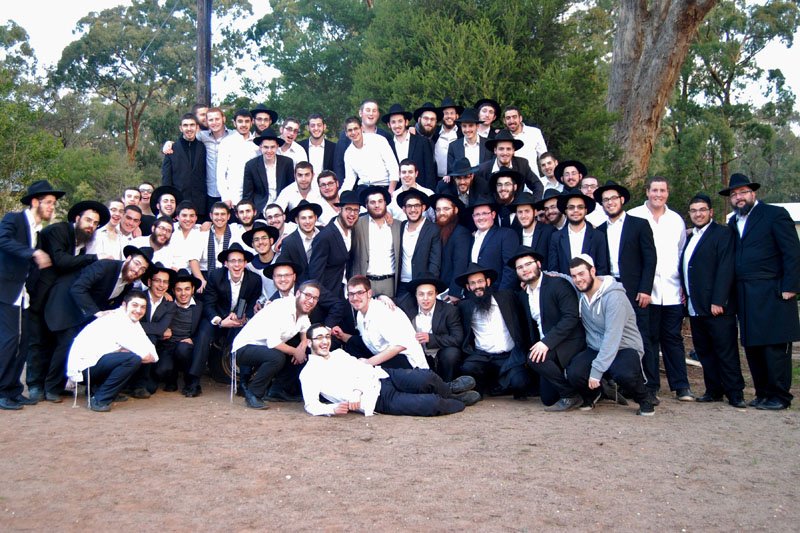 On Shabbos Behaaloscha (may 24-25), students of the Rabbinical College of Australia & NZ enjoyed the annual mid-winter Shabbaton, arranged by the Shluchim. The Shabbaton took place at Log Cabin Camp, a rustic bush resort located at scenic Creswick, a two hour drive from Melbourne.
The Bochurim enjoyed some recreation when they arrived at the campsite, after which they made their final Shabbos preparations. Friday night began with Mincha and a moving Seder Nigunnim, which was followed by Seder Sichos and a very lively Kabbolas Shabbos. The Bochurim shared stories and Divrei Torah around the Shabbos table. Before long, the Shabbos meal turned into one of YG's legendary "Hiskashrus" Farbrengens that went on late into the night, past 2:30 in the morning.
Despite the late night, Shabbos morning began bright and early with a refreshing Mikvah dip in the ice-cold lake, followed by pastries and a packed Shiur Chassidus by the fireside. One of the highlights of davening was the Aliyos auction, in which Hachlotos (good resolutions) were tendered as bids.
The Shabbos meal and Farbrengen was interlaced with inspired singing, and went all the way to Mincha. Shabbos concluded with a Seder Niggunim, Maariv and Havdallah.
At the Melave Malka banquet, the Bochurim viewed a special video collage of the current year at YG. The Bochurim then enjoyed a trivia game and a round of Grammen. There was also a bit of time for a grand game of Gaga and canoening before the Bochurim then boarded the bus for the ride back to Melbourne – refreshed and reinvigorated by the inspirational Shabbaton.
A special Yasher Koach to all who made this project possible, including the Shluchim for arranging and coordinating the Shabbaton, the team of Bochurim who helped make the Shabbaton the success that it was, Mr Mordechai Joseph for overseeing the Gashmius, and Rabbi Schneier for chaperoning the event.
Photo Credits: Dovi Straiton and Mendy Reicher