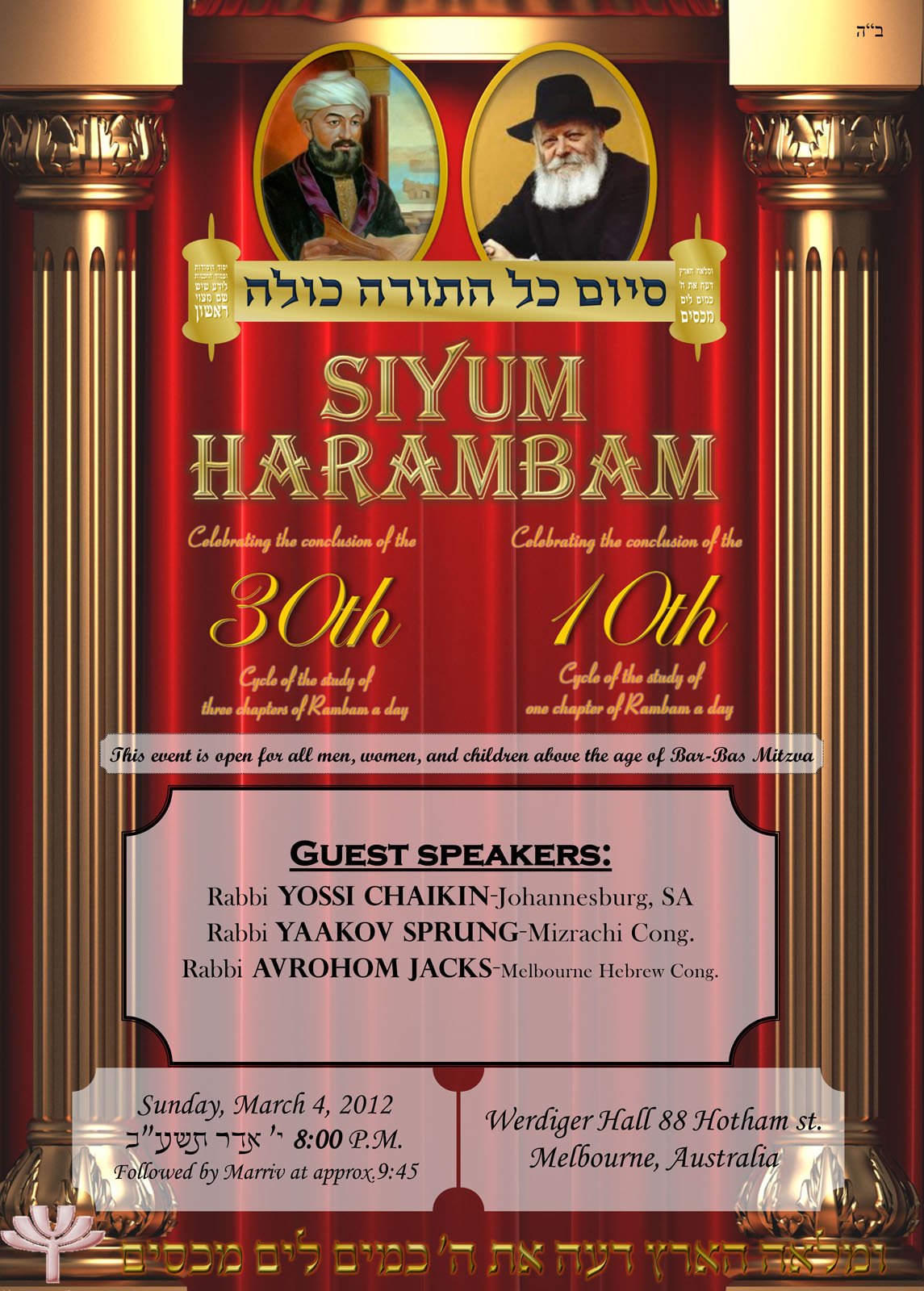 This Sunday, hundreds of men and women attended a grand Siyum HaRambam celebration in Melbourne Australia, at Yeshivah Centre's Werdiger Hall. The event marked the completion of the 30th cycle of three daily chapters of Rambam, and the 10th cycle of one daily chapter of Rambam.
Rabbi Leor Broh (of Congregation Bet Haroeh)was honoured with completing the Rambam, and Rabbi Zvi Telsner (of Yeshivah Centre) began the new cycle of Rambam.
Rabbi Chaim Tzvi Groner (of Ohel Devorah) chaired the event, and introduced Rabbi Yaakov Sprung (of Mizrachi Congregation). Rabbi Sprung focussed on the Rambam's introduction to Mishneh Torah, explaining that the ultimate objective of Torah study is to merge and become one with the unbroken chain of Torah tradition.
Guest speaker Rabbi Yossi Chaikin, visiting from Oxford Shul in South Africa, spoke about the tremendous unity brought about through the study of Rambam, whereby Jews of every background and every level of learning connect with their fellow Jews in communities around the globe. Rabbi Chaikin also observed the significance of the Siyum HaRambam occurring between the auspicious days of Zayin Adar – which is connected with the revelation of the Torah through Moshe Rabbenu, and Tes Adar – which is connected with the dissemination of Torah and Chassidus in the Western and Southern Hemispheres.
Rabbi Avrohom Jacks (of Melbourne Hebrew Congregation) elaborated on the emphasis of "Halachos Halachos" (laws upon laws) as the backbone of Klal Yisroel's relationship with Hashem.
Rabbi Leor Broh noted that the 30th cycle of Rambam commenced in the week of Parshas Terumah, which begins with the words "Vyikchu Li Terumah". The Zohar explains that the letters of "Terumah" spells "Torah" which was given in "Mem" (forty) days. The letters of the word "Li" – signifying thirty and ten respectively – represent the 30th and 10th cycles of learning the entire Torah over the past 28 years – the numerical value of the word "Koach" (strength). Rabbi Broh encouraged all to increase their dedication to the study of HaRambam, and concluded with heartfelt prayers for the coming of Moshiach.
The event was organized by the Shluchim of the Rabbinical College of Australia & New Zealand in conjunction with Yeshivah Centre.
Photos by: Dovi Straiton