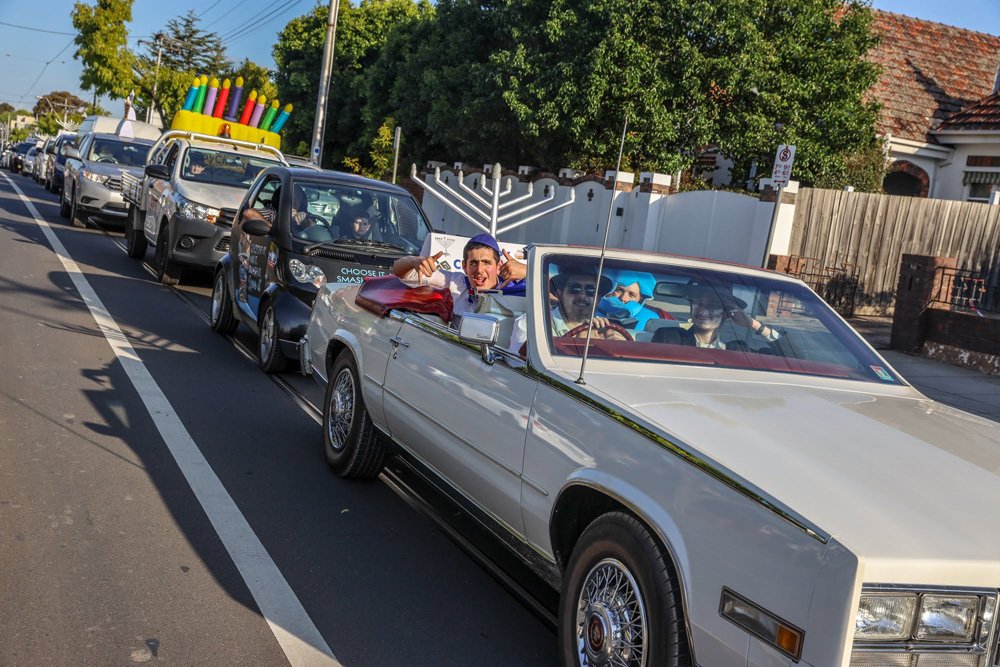 On Thursday, 5th night of Chanukah, Melbourne, Australia had its annual Chanukah Parade, organised by the Rabbinical College of Australia and NZ.
One of the largest ever in the city's history, over 80 participating vehicles paraded through the streets of Melbourne to publicize the miracle of Chanukah. For some, this Chanukah parade is a highlight of the year. Announced weeks in advance, the annual parade brings light, inspiration and encouragement to all who witness it.
The program began with a Menorah lighting and children's rally at the Caulfield Racecourse. The rally included a story relating to the power of Chanukah told by Rabbi Mordechai Szmerling, who had the children enthralled, followed by the recital of pesukim and giving of tzedaka (charity). Entertainment was provided by a Grand Bubble Show.
"These Chabad guys are so kind, it's unbelievable!" children from the local Mount Scopus school were heard saying as they left the rally, inspired by the community coming together to fulfill the Rebbe's grand mission of spreading light amongst the darkness.
As the rally ended, the parade began. A procession of cars bearing menorahs drove out onto the streets, playing Chanukah music. The Yids on Wheels Motorbike group, a stretch Hummer, various luxury cars, and a party bus, intensified the cheerful atmosphere that surrounded the parade. Onlookers marvelled at the sight, with many taking to the sidewalks to witness the event. At certain points, not being able to control the spiritual energy building up, spontaneous dancing broke out. Onlookers gathered and cheered in the streets, overjoyed with the incredible sight.
Credit goes to the amazing bochurim and shluchim of Yeshivah Gedolah, who put in weeks of effort to ensure that the parade was as smooth and successful as possible, making sure that every detail was looked after, and that everyone attending had a memorable experience. A special thank you to the sponsors for making the parade possible. A huge thanks to everyone who attended and came together to help spread the miracle of Chanukah and to bring Moshiach now!