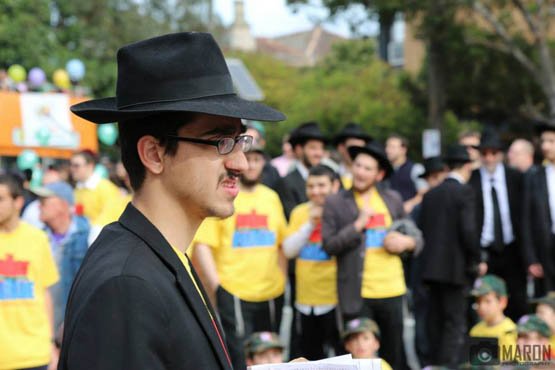 Thousands of people took part in the Lag B'omer Parade and Fair organized by Chabad Youth Melbourne this past Sunday. The parade united men, women and children in the streets of Melbourne, on a day of Jewish unity and pride.
The parade theme focused on Jewish history and identity, and boasted no less than sixty different floats and groups of marching students and children. The students of the Rabbinical College of Australia & New Zealand were involved in many facets of the event, most notably the construction of a large float. The many energetic and exciting clowns were none other than our very own students.
Upon the parade's completion, the festivities continued with a fair at Alexandra Street. Many students spent this time reaching out to their fellow Jews, and inviting men to don Tefillin.
Despite having already put in a full day's effort, the students all attended a special Farbrengen arranged by Yeshivah Gedolah. The Farbregnen was led by Rabbi Ceitlin, himself a former Shliach at Yeshivah Gedolah, and currently the director of several Chabad-Lubavitch institutions in Tzfat (Safed - Israel).
Pictured below are several scenes of the students constructing their float, their participation in the parade, and the Farbrengen that followed.
Photo Credits: Menachem Aron