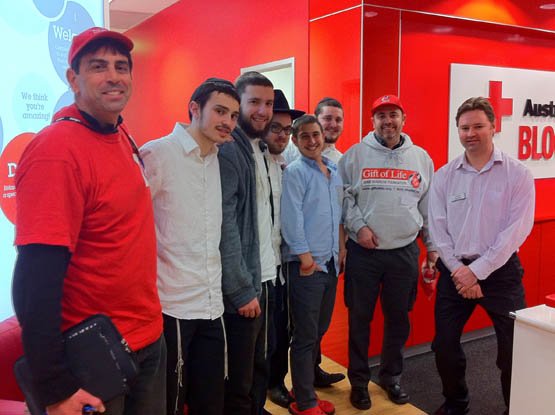 The Talmud in Sanhedrin states that "whoever saves a life, it is considered as if he saved an entire world".
In July this year, Rabbinical College staff and students demonstrated that they are not only involved in saving people's spiritual lives through Torah learning and performance of mitzvos, but also assisting in saving physical lives.
Gift of Life Australia's mission is to raise awareness about the life saving potential of Stem Cell, Bone Marrow and Cord Blood transplants and to increase the representation of Jewish people on the Australian Bone Marrow Donor Registry.
Tissue type is inherited. A patient's best chance of finding a genetic match lies with those in their immediate family or with those of similar ethnic ancestry. Only one third of patients find a relative whose tissue matches theirs, the rest need to find an unrelated donor within their community to increase their chance of survival. Patients with a Jewish heritage are more likely to find a match with someone of a similar background.
There are currently four Jewish leukaemia patients aged 2, 5, 16 and 61 who are dying, and a matching blood stem cell or bone marrow transfusion can save their lives. The need for volunteer potential donors from the Jewish community is urgent.
In response to this urgent call, staff and students gave of their time to attend the Australian Red Cross Blood Donor Centre in Hawthorn Road, Caulfield to register and have blood samples taken. A true Kiddush Hashem!
Shifts of students were driven to the Blood Donor Centre where they were happily greeted by Yehuda Kaplan, Michelle Sherman, Esther Ciechanowski and Craig Rosen of Gift of Life, and Doug Allen, Community Relations Manager for Red Cross.
Rabbinical College General Manager, Mordechai Joseph, a regular blood donor himself, brought Gift of Life's appeal to the college's attention, arranged the pre-bookings and for the shifts to take place in an organised fashion.