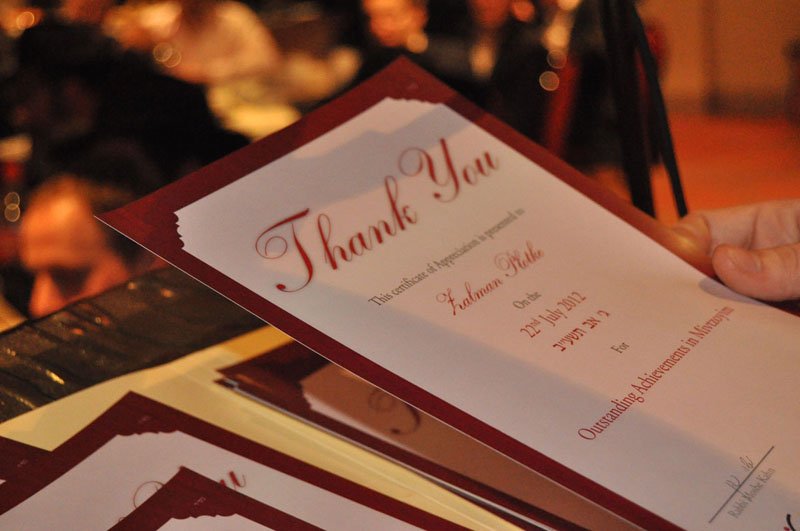 Each Friday afternoon, students of the Rabbinical College of Australia (YG-Melbourne) and Mesivtah take part in "Mivtzoyim", visiting workplaces, shopping centres and offices to share a word of Torah, and to encourage their fellow Jews to fulfil an extra Mitzvah. Some students also visit patients in area hospitals and homes, offering a word of encouragement and sympathy in their time of distress.
This past Sunday (3 Av – 22 July), over fifty people regularly visited on Mivtzoyim gathered to thank their Friday Mivtzoyim volunteers. The warm atmosphere was palpable in the hall as everyone began arriving and sharing their welcomes.
The evening began with Tehillim led by Mesivtah Student Yossi Gopin. Yeshivah Gedolah student Avi Bart shared some personal Mivtzoyim experiences, and he spoke about the Rebbe's legendary Ahavas Yisroel (love for every Jew) which is the source of inspiration for each and every Mivtzoyim volunteer.
Stan Gordon spoke of his warm connection with Chabad, which was initiated by Rabbi Masinter in South Africa, and which progressively strengthened after his move to Melbourne. Stan shared some personal stories with the Rebbe, his increasing adherence to Torah and Mitzvos, and a vote of thanks to all the boys who visited him each Friday over the years.
After an intermission and supper, Rabbi Yaakov Glasman captivated the audience with words of inspiration, as he shared the special impact the Yeshivah Gedolah students have on the members of his congregation each time they make the six-hour round-trip trek each Yom Tov Tahalucha.
Mivtzoyim co-ordinators Shmuel Lipskier and Mendel Polter presented each Mivtzoyim volunteer with a certificate and special leather Tefillin Bag as a token of appreciation.
Chabad-Youth director Rabbi Moshe Kahn movingly encouraged each and every person in the crowd to enhance their Mitzvah observance, and to further devote themselves to at least one of the Ten Mivtzoyim.
The evening concluded with a special video presentation produced by Berel Groner and Menachem Wolf, and desserts. A special souvenir journal was distributed, which included greetings from Rabbi Chaim Tzvi Groner and Rabbi Binyomin Cohen.
Special thanks to Rabbi Moshe Kahn and all the Yeshivah Gedolah and Yeshivah College Shluchim for organizing the event, to Benny Goldman for catering, and to Zalman Ajzenszmidt and Sholom Loebenstein for coordinating various aspects of the event.
Photo Credits: Dovi Straiton