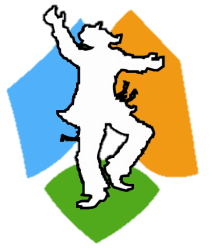 Many of the student Shluchim devoted their recent mid-minter break to reach out to Jews across Australia. Hirschel Gourarie and Shmuel Lipskier recounted their experiences in Campbelltown and Parramatta, New South Wales. All names are pseudonyms:
In one of the homes that we visited on the outskirts of Campbelltown, we spent several hours in meaningful conversation with Sara and Jack, their three young boys, and Sara's father. At one point during the conversation, the telephone rang. Sara picked up the phone, and when she realized that she was speaking to her child's Hebrew teacher, she exclaimed, "Ben, you wouldn't believe who we are hosting right now. Two roving rabbis have come for a visit!"
Ben responded, "Wow, how coincidental. I just finished speaking with my mother in Parramatta, and she told me that two roving rabbis visited her just yesterday." He didn't realize it, but he was referring to us! We were amazed at the Hashgocha Protis (Divine Providence) connecting these two visits, even though the driving distance was over an hour-and-a-half.
As our discussion progressed, Sara told us that she had always wanted her home to have a Mezuzah, but that she had been told that this was not allowed because she did not yet observe all the laws of Kashrut. We were quick to explain that she had been misinformed, and that we were more than happy to put a Mezuzah up.
Sarah excitedly gathered her entire family at the front door. The Brocho was recited, and Sara's father affixed the Mezuzah. We spontaneously broke out into a dance with Jack, and the excited children were quick to follow by forming their own circle. Our visit ended on a high note.
The effects of our visit are still being felt. For the first time, the family attended Shule on Shabbos. And, we just received the following email from Sara:
Hello Hirschel,
I trust your flight to Melbourne was OK, and you have settled back into cold Melbourne weather.
Joshua keenly did his Hebrew lesson today with my friend Ben, who commented that he could see Joshua had made a real effort today, and he wondered what the turnaround was. I told him…"the roving Rabbis of course!"
We had the opportunity to meet many more Jews and their families, and we also spent some time visiting the elderly. We are grateful for the opportunity to reach out and inspire our fellow Jews, and we would like to thank Rabbi and Mrs Wernick for the hospitality that they graciously extended to us.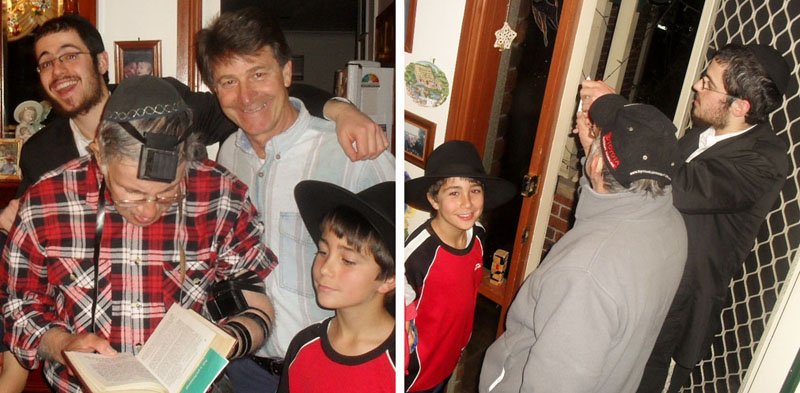 ---
Mendy Kesselman and Yitzchak Einstein recounted their experiences in Canberra and the surrounding region:
We arrived in Canberra under the auspices of Chabad of the ACT, directed by Rabbi Dan Avital. One of our first tasks was to help set up a Kosher kitchen for Bernette, who had told Rabbi Avital of her desire to increase the Kosher standards of her kitchen. It is a big task to fully Kosher a kitchen, and we spent two full days Koshering Bernette's kitchen, including the two hour drive with all of her dishes which we immersed in the recently opened Mikvah Chaya Mushka in Canberra. Needless to say, Bernette was very thankful for our efforts.
Another highlight of our trip was our visit to the farm of a Jewish family living in Gundaroo. We practiced the recitation of the Shema with the children, discussed the Parsha and put up a Mezuzah.
We spent the remainder of our week meeting the elderly and unaffiliated members of Canberra's Jewish community. We extend our thanks to Rabbi and Mrs Avital for their gracious hospitality.